Today's Homebuyers Want Lower Prices. Sellers Disagree
The uncertainty the world faces today due to the COVID-19 pandemic is causing so many things to change. The way we interact, the way we do business, even the way we buy and sell real estate is changing. This is a moment in time that's even sparking some buyers to search for a better deal on a home. Sellers, however, aren't offering a discount these days; they're holding steady on price.
Agents are being asked the following two questions:
1. "Have any of your sellers recently reduced their price to attract buyers?"
Their answer: 72% said their sellers have not lowered prices to attract buyers during this health crisis.
2. "Are home buyers expecting lower prices now?"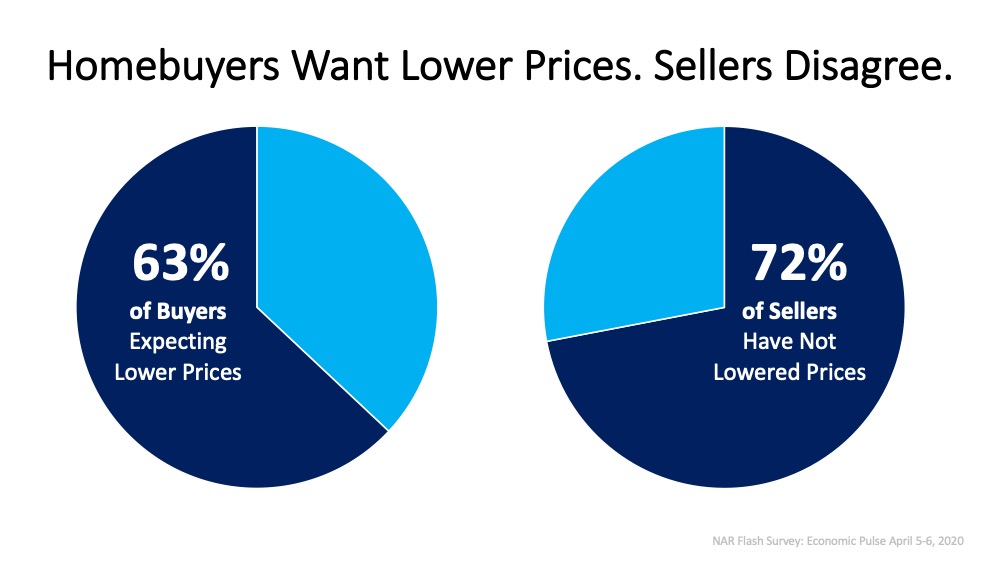 Their answer: 63% of agents said their homebuyers want lower prices and were looking for a price reduction of at least 5%.
What We Do Know
In today's market, with everything changing and ongoing questions around when the economy will bounce back, it's interesting to note that some buyers see this time as an opportunity to win big in the housing market. On the other hand, sellers are much more confident that they will not need to reduce their prices in order to sell their homes. Clearly, there are two different perspectives at play.
Bottom Line
If you're a buyer in today's market, you might not see many sellers lowering their prices. If you're a seller and don't want to lower your price, you're not alone. If you have questions on how to price your home, let's connect today to discuss your real estate needs and next steps.
Los Compradores de Vivienda de Hoy Quieren Precios Más Bajos.
La incertidumbre a la que se enfrenta el mundo hoy debido a la pandemia COVID-19 está haciendo que muchas cosas cambien. La manera en la que interactuamos, la forma en la que hacemos negocios, incluso la forma que compramos y vendemos bienes raíces está cambiando. Este es un momento en el tiempo que incluso está provocando que algunos compradores busquen una mejor oferta por la casa. Sin embargo, los vendedores no están ofreciendo un descuento en estos días, ellos se mantienen firmes en el precio.
Se hizo a los agentes las dos siguientes preguntas:
1."¿Alguno de sus vendedores ha reducido su precio recientemente para atraer compradores?"
Su respuesta: 72 % dijo que sus vendedores no han bajado los precios para atraer a los compradores durante esta crisis de la salud.
2. "¿Los compradores de vivienda esperan precios más bajos ahora?"
Su respuesta: 63 % de los agentes dijeron que sus compradores estaban buscando una reducción de precios de al menos 5 %.
Que sabemos
En el mercado actual, con todo cambiando y las preguntas en curso alrededor de cuándo la economía se recuperará, es interesante notar que algunos compradores ven este momento como una oportunidad para ganar a lo grande en el mercado de la vivienda. Por otro lado, los vendedores están mucho mas seguros de que no necesitarán reducir sus precios para vender sus casas. Claramente, hay dos perspectivas diferentes en juego.
En conclusión,
Si usted es un comprador en el mercado actual, es posible que no vea muchos vendedores bajando sus precios. Si es un vendedor y no quiere bajar su precio, no está solo. Si tiene preguntas sobre cómo fijar el precio a su casa, hablemos para discutir sus necesidades en bienes raíces y los próximos pasos.